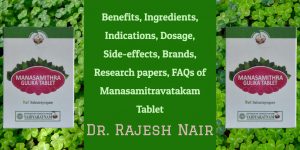 Benefits, Ingredients, Indications, Dosage, Side-effects, Brands, Research papers, FAQs of Manasamitravatakam Tablet
Benefits
This is a unique classical herbal preparation indicated for stress and insomnia. It is also effective to improve memory.
It is a brain and nerve tonic and rejuvenator. It improves all mental faculties.
Indications:
In Children
Improves academic performance
ADHD
Useful for Mentally Handicapped
In Professional & Youngsters

A stress buster
Reduces mental fatigue
Improves concentration
In women
Pre-Menstrual tension
PMS(menopause Irritability)
PCOS
In Elderly
Good nervine tonic
Imparts good sleep
Checks degenerative changes
Alzheimer's Disease
Parkinson's Disorder
In Psychosomatic Disorders
Hysteria
Insomnia
Migraine
Stress Reduced Hyperacidity
Stress Reduced Hypertension
Psoriasis
The great scholar and founder of AryaVaidyasala Kottakkal, Vaidyaratnam Shri. P. S. Varier comments on the efficacy of this product in his book Chikitsasangraham- this is very efficacious in lunacy and other ailments; alcoholism, toxicity and helps to improve mental faculties and in overcoming fits, convulsions and epilepsy. Sages say those taking this daily will be immune to snakebites, lightning, cholera, small pox, and contagious diseases. In addition, anyone taking this daily will develop a happy trend of mind, poetic taste, mastery of expression and other qualities. This may be taken twice daily on empty stomach in warm cow's milk or Brahmi ghritham, Mahakalyanaka ghritham, Saraswatha ghritham or other vehicles prescribed for mental ailments.
An indication of Manasamitra Vatakam Tablet in the classical reference Sahasrayoga.
Manodoshahara: pranja medham cha prathibhamapi ||
SahasraYoga Gutika Prakarana/ 40
Dosage: As directed by Physician.
Diet: Vegetarian with low spices.
Ingredients
The drug is having the effect of pacifying manodosha and it can act on the brain to augment prajna, medha, and pratibha. Most of the ingredients of the drug have medhya property (brain booster), vrishya property (sex stimulant)and a meager number of ingredients have sukra sthambana ( delaying ejaculation) property. Contents of Manasamitra vatakam Bala – – Sida cordifolia, Nagabala – Sida Veronicaefolia, Vilva – Aegle marmelos, Prishniparni – Uraria picta, Pravala – Coral, Shankhapushpi – Clitorea ternatea, Tamra bhasma, Swarna Bhasma, Pushkaramoola – Inula racemose, Mrigashringa – Deer horn, Vacha – Acorus calamus, Tapya – Copper, Makshika Bhasma-Iron Pyrite, Chandana – Santalum album, Raktachandana – Pterocarpus santalinus, Mukta – Pearl, Loha Bhasma – Iron, Madhuka – Glycyrrhiza glabra, Twak – Cinnamomum zeylanicum, Magadhi – Piper longum, Ghanasara – Cinnamomum camphora, Aileya – Prunus cerasus, Vishala – Citrullus cholocynthis, Arkaraga- Lodoicea seychellarum, Nirgundi – Vitex negundo, Plava – Nyctanthes arbor-tristis, Rasna – Alpinia galangal, Rajata Bhasma – Silver, Shilajatu – Asphaltum, Gojihva – Onosma bracteatum, Padmakeshara –Nelumbo nucifera, Jivaka – Malaxis muscifrea, Rishabhaka – Malaxis acuminate, Kakoli – Rosacea procera, Kshira Kakoli – Roscoea purpurea, Brihati – Solanum indicum, Kantakari – Solanum xanthocarpum, Shravani- Sphaeranthus indicus, Mahashravani – Sphaeranthus indicus, Bhunimba – Andrographis paniculata, Kritamala – Cassia fistula, Parushaka – Phoenix pussila, Haritaki – Terminalia chebula, Vibhitaki – Terminalia bellirica, Amalaki –Emblica officinalis , Amrit – Tinospora cordifolia, Shweta Sariba- Hemidesmus indicus, Krishna sariba –Ichnocarpus frutescens, Jeevanti – Leptadenia reticulate, Somavalli – Sarcostemma acidum, Ashwagandha – Withania somnifera , Nisha – Curcuma longa, Usheera – Vetiveria zizanioides, Draksha – Vitis vinifera, Yashti – Glycyrrhiza glabra, Riddhi – Vigna cylindrical, Durva – Cynodon dactylon, Hamsapadi – Adiantum philippense , Bhadra – Aerva lanata, Lavanga – Syzigium aromaticum, Tulasi – Ocimum sanctum, Kasturi – Musk, Kumkuma- Crocus sativus, Juice extract of Trayanti – Bacopa monnieri Water decoction of Shankhapushpi – Clitorea ternatea, Vacha – Acorus calamus, Sariba – Hemidesmus indicus, Lakshmana – Ipomoea sepiaria , Vilva – Aegle marmelos, Bala – Sida cordifolia, Goksheera – Cow milk, Jiraka – Cuminum cyminum, Somavalli – Sarcostemma acidum, Stanya –Milk.
Ingredients of Manasamitra Vatakam

Sanskrit Name
Botanical name
Bala
Sida cordifolia
Nagabala
Sida Veronicaefolia
Vilva
Aegle marmelos
Prishniparni
Uraria picta,
Pravala
Coral
Shankhapushpi
Clitorea ternatea
Tamra bhasma
An alloy of Copper and Zinc
Swarna Bhasma
Gold
Pushkaramoola
Inula racemose
Mrigashringa
Deer horn
Vacha
Acorus calamus
Tapya
Copper,
Makshika Bhasma
Iron Pyrite
Chandana
Santalum album
Raktachandana
Pterocarpus santalinus
Mukta
Pearl
Loha Bhasma
Iron
Madhuka
Glycyrrhiza glabra
Twak
Cinnamomum zeylanicum
Magadhi
Piper longum
Ghanasara
Cinnamomum camphora
Aileya
Prunus cerasus
Vishala
Citrullus cholocynthis
Arkaraga
Lodoicea seychellarum
Nirgundi
Vitex negundo
Plava
Nyctanthes arbor-tristis
Rasna
Alpinia galanga
Rajata Bhasma
Silver
Shilajatu
Asphaltum
Gojihva
Onosma bracteatum
Padmakeshara
Nelumbo nucifera
Jivaka
Malaxis muscifera,
Rishabhaka
Malaxis acuminate,
Kakoli
Rosacea procera
Kshira Kakoli
Roscoea purpurea
Brihati
Solanum indicum
Kantakari
Solanum xanthocarpum
Shravani
Sphaeranthus indicus
Mahashravani
Sphaeranthus indicus
Bhunimba
Andrographis paniculata
Kritamala
Cassia fistula
Parushaka
Phoenix pussila
Haritaki
Terminalia chebula
Vibhitaki
Terminalia bellirica
 Amalaki
Emblica officinalis
Amrit
Tinospora cordifolia,
Shweta Sariba
Hemidesmus indicus,
Krishna sariba
Ichnocarpus frutescens
Jeevanti
Leptadenia reticulate
Somavalli
Sarcostemma acidum
Ashwagandha
Withania somnifera
Nisha
Curcuma longa
Usheera
Vetiveria zizanioides
Draksha
Vitis vinifera
Yashti
Glycyrrhiza glabra
Riddhi
Vigna cylindrical
Durva
Cynodon dactylon
Hamsapadi
Adiantum philippense
Bhadra
Aerva lanata
Lavanga
Syzigium aromaticum
Tulasi
Ocimum sanctum
Kasturi
Musk
Kumkuma
Crocus sativus
Juice extract of
Trayanti
Bacopa monnieri
Water decoction of
Shankhapushpi
Clitorea ternatea
Vacha
Acorus calamus
Sariba
Hemidesmus indicus
Lakshmana
Ipomoea sepiaria
Vilva
Aegle marmelos
Bala
Sida cordifolia
Goksheera
Cow milk
Jiraka
Cuminum cyminum
Somavalli
Sarcostemma acidum
Stanya
Milk
Side effects:
The overdose causes hypoglycemia. The toxicity studies conducted confirms the safety of the combination in the prescribed doses.
Acute and Subacute Toxicity Study of Manasamitra Vataka without Musk in Experimental Animal Models by Sanjaya Kumar. Y.R, Vasanthakumar K.G, Thamizh Selvam. N and Acharya.  M. V published in the International Journal of Pharmacy & Pharmaceutical Research January2016Vol.:5, Issue:2  http://bit.ly/2GAzQiA
Brands
Arya Vaidyasala, Kottakkal
Vaidyaratnam Oushadhasala, Trissur
Kerala Ayurveda
Imis Pharma
SNA Oushadhasala
Nagarjuna Herbal Concentrates
FAQs on Manasamitra Vatakam
What is Manasamitra vatakam?
This is an herbal tablet mainly used by the physicians of Kerala, the southern tip of India for treating mental ailments.
Manasamitra vatakam and Manasamitra tablet- both are same?
Yes. Vatakam in Sanskrit means tablet.
The common dosage is two tablets once or twice daily with warm milk. You have to take the advice of your physician to fix the dosage or can avail our free online consultation service here.
What's the duration of the treatment?
It varies from person to person. Normally 90 to 180 days is the course time.
What are the side effects of this medicine?
There is no side effect if taken under medical supervision. The side effects are seen in patients who consume overdose or no following the restrictions of the physician.
What is the expiry of the tablet?
Three years is the expiry and all brands and companies print the expiry very clearly.
How can we take Manasamitra vatakam?
It should be taken along with warm milk. In certain diseases, some other ayurvedic ghee preparations are also given as an adjuvant. This is prescribed by the attending physician.
Where can we buy Manasamitra vatakam?
You can buy online through the following links.
https://www.ayurvedaforall.com/manasamitra-vatakam-aryavaidyasala-kottakkal.html
https://www.ayurvedaforall.com/manasamitra-vatakam-tablet.html
The tablet is shipped world wide and you will get the product in 12- 19 working days.
Research papers on Manasamitra Vatakam
Share and Enjoy