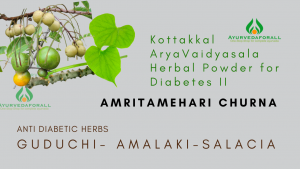 Amritamehari churna is an Ayurvedic medicine used in the treatment of diabetes and its associated complications. This powder contains herbal ingredients only. This medicine should only take as per the direction by a physician. This product is from Arya Vaidyasala Kottakkal.
BENEFITS OF AMRITAMEHARI CHURNA
This medicine is used in the management of complications associated with diabetes.
It is also effective in the management of neuropathy.
INDICATIONS OF AMRITAMEHARI CHURNA
Prameha – Diabetes
Neuropathy
Urinary diseases
 INGREDIENTS OF AMRITAMEHARI CHURNA
| | | | |
| --- | --- | --- | --- |
| SL.NO | SANSKRIT NAME | ENGLISH/ LATIN | ACTION |
| 1 | AMRITA (GILOY) | Tinospora cordifolia | Balances vata , pitta dosha |
| 2 | MEHARIMULA | Gymnema sylvestre | Relieves diabetes |
| 3 | HARIDRA | Curcuma  longa | Antibacterial action |
| 4 | DHATRI | Indian goose berry / Emblica officinalis | Rejuvenator |
METHOD OF PREPARATION OF AMRITAMEHARI CHURNA
 Above mentioned drugs are taken and finely powdered.
DOSHA- DUSHYA PREDOMINANCE AND ROGA MARGA OF AMRITAMEHARI CHURNA
 Dosha – This medicine is recommended for the treatment of all vata- pitta – kapha predominant diseases.
Dushya- useful in diseases affecting rakta, mamsa,asthi,majja dhatu – neuropathy
Roga marga – Useful in diseases affecting Madhyama roga marga (marma asthi sandhigata) like diabetes.
 DOSAGE AND USAGE OF AMRITAMEHARI CHURNA
3 to 10 gm once or twice a day after food or as directed by an Ayurveda physician.
EXERCISES AND YOGA
 Yoga and Pranayama are a set of breathing and stretching exercises respectively, widely practiced in the treatment of many diseases.
Nadi Shuddi Pranayam    – for getting calmness to the mind provide overall health
 The patient needs to be seated in a meditative posture with the head and spine erect, with the body relaxed. The patient has to close his one nostril (e.g. left nostril if using the right hand and vice versa) with the thumb and exhale completely through the other nostril. Again, he will have to breathe in deeply through the other nostril while the opposite nostril is still closed with the thumb.
      RECOMMENDED DIET AND BEHAVIOUR OF AMRITAMEHARI CHURNA
Avoid food items which produce dosha imbalance like cold, more acrid, sour and dry food, hard to digest. Because dosha imbalance aggravates the symptoms.
Consume easily digestible food items.
Avoid sugar-containing diet in patients with diabetes.
SIDE EFFECTS AND CONTRAINDICATIONS OF AMRITAMEHARI CHURNA
 This medicine should only take as per the direction of the physician.
It is better to avoid by children, lactating women and during pregnancy
Improper administration and overdosage leads to side effects
Can this medicine be used while taking Allopathic medicines?
                     Seek your doctor's advice if you are taking this medicine along with Allopathic medicines.
How long the medicine can be used?
             The duration of medicinal administration is based on your stage of the disease. Before taking medicine consult an Ayurvedic physician.
Is this medicine habit forming?
     This medicine is not habit-forming. After using for a prescribed period gradually decrease the dose and eventually stop it.
EQUIVALENT MEDICINES OF AMRITAMEHARI CHURNA
Vasantha kusumakara ras
Nisha katakadi kashayam
Kataka khadiradi kashayam
Chandra prabha gulika
   AVAILABLE BRAND OF AMRITAMEHARI CHURNA
RESEARCH PAPERS OF AMRITAMEHARI CHURNA
Immune-Stimulatory and Therapeutic Activity of Tinospora cordifolia: Double-Edged Sword against Salmonellosis.
https://www.hindawi.com/journals/jir/2017/1787803/
Hypoglycemic and anti-hyperglycemic activity of Guduchi Satvain experimental animals
http://www.ayujournal.org/article.asp?issn=0974-8520;year=2013;volume=34;issue=4;spage=417;epage=420;aulast=Sharma
Share and Enjoy