SWARNA BHASMA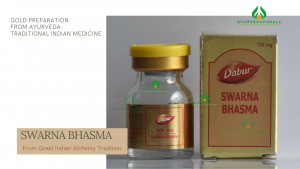 Swarna bhasma is an Ayurvedic medicine used in the treatment of a wide spectrum of diseases including respiratory diseases and gastrointestinal diseases. This medicine is prepared from gold. This medicine should only take as per the direction by a physician.
BENEFITS OF SWARNA BHASMA
This medicine is used in the treatment of respiratory diseases.
As per Ayurveda classics, it balances vata , pitta and kapha dosha.
This medicine is used as a natural rejuvenator and provides immunity.
This medicine is also good for diseases of the digestive system.
INDICATIONS OF SWARNA BHASMA
Kshaya – Emaciation
Agnisadanam – Indigestion
Kasa – cough
Swasa – breathing difficulty
Pandu – anaemia
Grahani – sprue, malabsorption
INGREDIENTS OF SWARNA BHASMA
| | | | |
| --- | --- | --- | --- |
| SL NO | SANSKRIT NAME | ENGLISH | ACTION |
| 1 | SWARNA | Gold | provide immunity, rejuvenator |
| 2 | PARADA BHASMA (RASASINDURA) | Bhasma of mercury | fast relieve from symptoms |
| 3 | MATULUNGA | Juice of Citrus medica | |
 METHOD OF PREPARATION
The purified gold leaf grounded with the juice of citrus medica and rasasindura. Then heated in special equipment called puta.
Rasasindura is prepared with special kupipakwa method – 96 gm of purified parada and 96 gm of purified gandhaka triturated continuously to get a homogenous black coloured mixture known as kajjali. This kajjali again grounded with the juice of vatankura. This mixture filled in an amber coloured glass bottle with 750 ml capacity. Bottle wrapped with mud smeared cloth. Then subjected to heat and after cooling red coloured rasasindura powder collected.
Detoxification of mercury– Ground with the juice of Aloe vera, Triphala(Terminalia chebula, Terminalia bellerica, Emblica officinalis), root of chitraka (Plumbago zeylanica) each for 7 days.
Detoxification of Gandhaka – fried in ghee and dipped in cow's milk repeated for 7 times.
Purification of gold- Heated and immersed in sesame oil, buttermilk, cow's urine, gruel and decoction of kulatha (Dolichos biflorus) in that order for seven days in each liquid.
DOSHA- DUSHYA PREDOMINANCE AND ROGA MARGA
 Dosha – This medicine is recommended for the treatment of vata, pitta and kapha predominant diseases.
Dushya- useful in diseases affecting rasa, rakta dhatu –  indigestion
Roga marga – Useful in diseases affecting abhyanthara roga marga – diseases affecting the digestive system, respiratory system
 DOSAGE AND USAGE
 Take 15 to 30 mg after food once or twice daily along with ghee or powder of trikatu as directed by an Ayurvedic doctor.
EXERCISES AND YOGA
 Yoga and Pranayama are a set of breathing and stretching exercises respectively, widely practised in the treatment of different diseases.
Nadi Shuddi Pranayam    – Effective in respiratory diseases, cleans the respiratory passage, calms mind (mental stress aggravates the digestive problems)
 The patient needs to be seated in a meditative posture with the head and spine erect, with the body relaxed. The patient has to close his one nostril (e.g. left nostril if using the right hand and vice versa) with the thumb and exhale completely through the other nostril. Again, he will have to breathe in deeply through the other nostril while the opposite nostril is still closed with the thumb.
RECOMMENDED DIET AND BEHAVIOUR
Avoid food items which produce dosha imbalance like cold, more acrid, sour and dry food, hard to digest. Because dosha imbalance aggravates the symptoms.
Consume easily digestible food items
Avoid smoking, carbonated drinks, alcohol
SIDE EFFECTS AND CONTRAINDICATIONS
 This medicine should only take as per the direction of the physician.
It is better to avoid by children, lactating women and during pregnancy
Improper administration and overdosage leads to side effects
Can this medicine be used while taking Allopathic medicines?
                     Seek your doctor's advice if you are taking this medicine along with Allopathic medicines.
How long the medicine can be used?
             The duration of medicinal administration is based on your stage of the disease. Before taking medicine consult a physician.
Is this medicine habit forming?
     This medicine is not habit-forming. After using for a prescribed period gradually decrease the dose and eventually stop it.
                  CLASSICAL REFERENCE
EQUIVALENT MEDICINES
Swasa kutar ras
Kasa kutar ras
Vyoshadi vataka
Agastya rasayan
    AVAILABLE BRANDS
Shree dhootapapeshwar
Dabur
Baidyanath
RESEARCH PAPERS
1.     Blood compatibility studies of Swarna bhasma (gold bhasma), an Ayurvedic drug
                    https://www.ncbi.nlm.nih.gov/pmc/articles/PMC3157103/
2.     Comparative study on cellular entry of incinerated ancient gold particles (Swarna Bhasma) and chemically synthesized gold particles.
https://www.nature.com/articles/s41598-017-10872-3
3.     Swarna Bhasma and gold compounds: An innovation of pharmaceutics for illumination of therapeutics.
https://www.researchgate.net/publication/287178311_Swarna_Bhasma_and_gold_compounds_An_innovation_of_pharmaceutics_for_illumination_of_therapeutics
4.     Chemical characterization of incinerated gold (Swarna Bhasma)
https://www.imedpub.com/articles/chemical-characterization-of-incinerated-gold-swarna-bhasma.pdf
Share and Enjoy