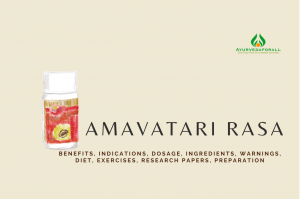 Amavatari ras is an Ayurvedic medicine used in the treatment of inflammatory joint diseases, Rheumatoid arthritis. This tablet contains mineral ingredients along with herbs. This medicine should only take as per the direction by a physician.
BENEFITS OF AMAVATARI RAS
This medicine is used in the management of Rheumatoid arthritis and its associated conditions.
As per Ayurvedic classics, imbalance in vata pitta dosha is the reason behind these inflammatory joint diseases.
This tablet balances the vata dosha and helps to regain the proper functioning of joints.
It is also effective in post fever joint pain.
Amavatari ras shows great analgesic property.
INDICATIONS OF AMAVATARI RAS
Amavata – Rheumatoid arthritis
Inflammation
Bursitis
Joint stiffness
Low backache
Initial stages of osteoarthritis
INGREDIENTS OF AMAVATARI RAS
| | | | | | |
| --- | --- | --- | --- | --- | --- |
| SL NO | SANSKRIT NAME | ENGLISH | LATIN | QUANTITY |  ACTION |
| 1 | PARADA | Purified mercury | | 10 gm | fast relieve from symptoms |
| 2 | GANDHAKA | Purified sulphur | | 20 gm | rejuvenator |
| 3 | HARITHAKI | Chebulic myrobalan | Terminalia chebula | 10 gm | rejuvenator |
| 4 | VIBHITHAKI | Belliric myrobalan | Terminalia bellerica | 10 gm | rejuvenator |
| 5 | AMALAKI | Indian gooseberry | Emblica officinalis | 10 gm | rejuvenator |
| 6 | VAHNI | The root of leadwort | Plumbago zeylanica | 40 gm | Carminative |
| 7 | GUGGULU | Indian bedelium | Commiphora mukul | 50 gm | analgesic |
| 8 | ERANDA TAILA | Castor oil | Ricinus communis | Quantity sufficient | Effective in vata dosha |
METHOD OF PREPARATION OF AMAVATARI RAS

 Purified mercury and sulphur triturated first to prepare a black coloured mixture known as kajjali. Kajjali grounded with rest of the drugs and castor oil and tablets are made with the size of 1 karsha(12gm)
Detoxification of Parada – Ground with the juice of Aloe vera, Triphala(Terminalia chebula, Terminalia bellerica,Emblica officinalis), root of chitraka (Plumbago zeylanica) each for 7 days.
Detoxification of Gandhaka – fried in ghee and dipped in cow's milk repeated 7 times.
DOSHA- DUSHYA PREDOMINANCE AND ROGA MARGA OF AMAVATARI RAS

 Dosha – This medicine is recommended for the treatment of all vata- pitta predominant diseases.
Dushya- useful in diseases affecting rasa, rakta,mamsa ,asthi ,majja dhatu – inflammatory joint diseases.
Roga marga – Useful in diseases affecting Madhyama roga marga (marma asthi sandhigata) like Amavata – Rheumatoid arthritis, Bursitis, Joint stiffness
.DOSAGE AND USAGE OF AMAVATARI RAS

Classically 1 tablet ( 12gm) once or twice a day after food along with castor oil or lukewarm water
250 mg – 500mg tablets are available or as directed by an Ayurvedic physician.
EXERCISES AND YOGA OF AMAVATARI RAS

 Yoga and Pranayama are a set of breathing and stretching exercises respectively, widely practiced in the treatment of many diseases.
Nadi Shuddi Pranayam    – for getting calmness to the mind provide overall health
The patient needs to be seated in a meditative posture with the head and spine erect, with the body relaxed. The patient has to close his one nostril (e.g. left nostril if using the right hand and vice versa) with the thumb and exhale completely through the other nostril. Again, he will have to breathe in deeply through the other nostril while the opposite nostril is still closed with the thumb.
Siddhasana  – This yogic posture is said to cure pain by awakening the body's energy centers called the 'chakras.'
 RECOMMENDED DIET AND BEHAVIOUR for  AMAVATARI RAS

Avoid food items that produce vata dosha imbalance like cold and dry food, hard to digest. Because vata imbalance aggravates the symptoms.
Avoid more acrid and sour foods that aggravate pitta dosha. pitta dosha aggravates inflammation.
Consume easily digestible food items.
Avoid heavy exercises that further aggravate painful joint conditions.
Better to avoid milk and green gram.
SIDE EFFECTS AND CONTRAINDICATIONS OF AMAVATARI RAS

 This medicine should only take as per the direction of the physician.
It is better to avoid by children, lactating women and during pregnancy
Improper administration and overdosage leads to side effects
Can this medicine be used while taking Allopathic medicines?
                     Seek your doctor's advice if you are taking this medicine along with Allopathic medicines.
How long the medicine can be used?
             The duration of medicinal administration is based on your stage of the disease. Before taking medicine consult an Ayurvedic physician.
Is this medicine habit forming?
     This medicine is not habit-forming. After using for a prescribed period gradually decrease the dose and eventually stop it.
                CLASSICAL REFERENCE OF AMAVATARI RAS

Bhaishajya Ratnavali, Amavata chikilsa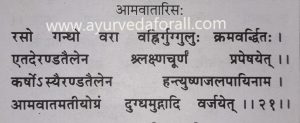 EQUIVALENT MEDICINES OF AMAVATARI RAS

Mahayoga raja guggulu
Yogaraja guggulu
Simhanada guggulu
Rasnerandadi kashayam
 AVAILABLE BRANDS OF AMAVATARI RAS

Baidyanath
Divya pharmacy
RESEARCH PAPERS OF AMAVATARI RAS

Clinical Evaluation of Therapeutic Effect of Amavatari Ras
https://www.researchgate.net/publication/332012657_Clinical_Evaluation_of_Therapeutic_Effect_of_Amavatari_Ras_Chitrakadi_Churna_Along_with_Swedan_Therapy_in_Patients_of_Amavata_Vis-A-Vis_Rheumatoid_Arthritis
2.     Anti-Inflammatory and Anti-Arthritic Efficacies of an Indian Traditional Herbo-Mineral Medicine "Divya Amvatari Ras" in Collagen Antibody-Induced Arthritis
https://www.frontiersin.org/articles/10.3389/fphar.2019.00659/full
3.     Impact of Mercury on the Efficacy of Amavatari Rasa in Rheumatoid Arthritis: A Randomized Double
Share and Enjoy