Chitrak haritaki is an Ayurvedic medicine used in the treatment of diseases including respiratory disorders and gastrointestinal disorders. This confection contains herbal ingredients only. This medicine should only take as per the direction by a physician.
BENEFITS OF CHITRAK HARITAKI
This medicine is mainly used in the management of diseases of the respiratory system.
It is also effective in haemorrhoids.
This medicine enhances the digestive power.
INDICATIONS OF CHITRAK HARITAKI
Kasa – cough
Swasa – breathing difficulty
Pratisyaya – rhinitis
Mandagni – indigestion
Arsas – haemorrhoids
Anaha – abdominal fullness
Sula – Abdominal colic
Udavarta – bloating
Krimi – intestinal worms
INGREDIENTS OF CHITRAK HARITAKI
| | | | | | |
| --- | --- | --- | --- | --- | --- |
| SL NO | SANSKRIT NAME | ENGLISH | LATIN | QUANTITY | ACTION |
| 1 | HARITAKI | Chebulic myrobalan | Terminalia chebula | 3.07kg | rejuvenator |
| 2 | PIPPALI | Long pepper | Piper longum | 96 gm | carminative |
| 3 | MARICHA | Black pepper | Piper nigrum | 96 gm | carminative |
| 4 | SUNDI | Ginger (dried) | Zingiber officinalis | 96 gm | carminative |
| 5 | ELA | cardamom | Elettaria cardamomum | 96 gm | Balances vata and kapha |
| 6 | TWAK | cinnamon | Cinnamomum zeylanicum | 96 gm | Balances pitta and vata |
| 7 | PATRA | | Cinnamomum tamala | 96 gm | Balances kapha and vata |
| 8 | YAVA KSHARA | Kshara of barley | Hordeum vulgare | 24 gm | Relieves complications associated with constipation, bloating, abdominal fullness |
| 9 | GUDA | Jaggery | | 4.8 kg | |
| 10 | MADHU | Honey | | 384 gm | |
 METHOD OF PREPARATION OF CHITRAK HARITAKI

4.8 litres of decoction prepared first using chitraka( Plumbago zeylanica), guduchi(Tinospora cordifolia), amalaki(Emblica officinalis) and roots of 10 drugs known as dasamula. Then added with 4.8 kg of jaggery and haritaki . This mixture is heated till attaining semisolid consistency. After this, the rest of the ingredients are added. Honey added only after cooling.
 DOSHA- DUSHYA PREDOMINANCE AND ROGA MARGA OF CHITRAK HARITAKI

 Dosha – This medicine is recommended for the treatment of vata, pitta , kapha dosha imbalance.
Dushya- useful in diseases affecting rasa, raktha dhatu –digestive problems.
Roga marga – This medicine can be administered in diseases affecting
Abhyanthara roga marga – respiratory diseases, abdominal colic
 DOSAGE AND USAGE OF CHITRAK HARITAKI

 Take 5 to 10 gms after food once or twice daily along with lukewarm water or milk or decoction of dasamula or as directed by an Ayurvedic doctor
 EXERCISES AND YOGA OF CHITRAK HARITAKI

 Yoga and Pranayama are a set of breathing and stretching exercises respectively, widely practised in the treatment of different diseases.
Nadi Shuddi Pranayam    – Effective in respiratory diseases, cleans the respiratory passage, calms the mind.
The patient needs to be seated in a meditative posture with the head and spine erect, with the body relaxed. The patient has to close his one nostril (e.g. left nostril if using the right hand and vice versa) with the thumb and exhale completely through the other nostril. Again, he will have to breathe in deeply through the other nostril while the opposite nostril is still closed with the thumb             
RECOMMENDED DIET AND BEHAVIOUR OF CHITRAK HARITAKI

Avoid food items that produce dosha imbalance like cold, more acrid, sour and dry food, hard to digest. Because dosha imbalance aggravates the symptoms.
Consume easily digestible food items, Lukewarm water, gruel
Avoid exposure to the cold environment.
Avoid smoking, carbonated drinks, alcohol
SIDE EFFECTS AND CONTRAINDICATIONS OF CHITRAK HARITAKI
 This medicine should only take as per the direction of the physician.
Taken by children, lactating women and during pregnancy only after consulting an Ayurveda doctor.
Improper administration and overdosage leads to side effects
Can this medicine be used while taking Allopathic medicines?
                     Seek your doctor's advice if you are taking this medicine along with Allopathic medicines.
How long the medicine can be used?
             The duration of medicinal administration is based on your stage of the disease. Before taking medicine consult a physician.
Is this medicine habit forming?
     This medicine is not habit-forming. After using for a prescribed period gradually decrease the dose and eventually stop it.
                  CLASSICAL REFERENCE OF CHITRAK HARITAKI

Bhaishajya ratnavali – Nasaroga chikilsa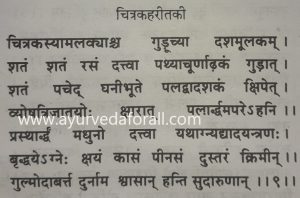 EQUIVALENT MEDICINES OF CHITRAK HARITAKI
Swasa kutar ras
Kasa kutar ras
Vyoshadi vataka
Agastya rasayan
       AVAILABLE BRANDS OF CHITRAK HARITAKI
Divya pharmacy
Zandu
Kottakkal Arya vaidya sala – Chitraka lehyam
RESEARCH PAPERS OF CHITRAK HARITAKI
Pharmacological Study of Chitraka Haritaki Avaleha & Shikhari Taila
 https://globaljournals.org/GJMR_Volume19/2-Pharmacological-Study-of-Chitraka.pdf
Accelerated stability study of Chitrak Haritaki avaleha
https://www.researchgate.net/publication/296694808_Accelerated_stability_study_of_Chitrak_Haritaki_avaleha
3.     Pharmacognostical and physicochemical evaluation of Chitraka haritaki avaleha: A compound Ayurvedic formulation
https://www.researchgate.net/publication/280314049_Pharmacognostical_and_physicochemical_evaluation_of_Chitraka_haritaki_avaleha_A_compound_Ayurvedic_formulation
A clinical study on the role of chitrak haritaki and anu taila nasya with a compound drug in allergic rhinitis w.s.r. to dushta pratishyay
https://wjpr.net/download/article/1540984645.pdf
Share and Enjoy